Regular price
RM3,600.00 MYR
Regular price
Sale price
RM3,600.00 MYR
Unit price
per
Sale
Sold out
Description
The fixture emits a softly diffused downward directed light, free of glare. It fades in at a fixed light level, when turned on, and fades out, when turned off, and has a timer function to turn off the light automatically after either four or eight hours. The fixture offers a wide light distribution for its relatively small size and the white painted inner side of the shade helps reflect the light comfortably. With the step-less dimmer, the light can be adjusted to a suitable level between 15 and 100%. The arm has a stationary angle of 15° and can rotate 342° around the base, while the head can tilt and rotate to direct the light distribution.
The NJP table lamp by Louis Poulsen presents a contemporary take on the timeless architect's lamps, featuring two adjustable joints for effortless positioning. The visible springs in the joints lend the lamp a subtle industrial charm. Designed by the esteemed Japanese studio, Nendo, its sleek and minimalist design ensures a user-friendly and enjoyable experience. The lamp offers direct, glare-free illumination, thanks to its white interior that optimises light reflection. With a convenient switch on the lampshade, you can adjust the brightness to two levels and even activate a 4 or 8-hour timer.
This stunning desk lamp effortlessly combines beauty and functionality. Equipped with a built-in 10W LED bulb, it provides a luminous flux of 529lm and boasts an impressive lifespan of 80,000 hours. Available in a range of colours including Dark Aluminium Gray, Light Aluminium Gray, Black, and White, and two light source options of 3000K and 2700K.
The NJP Mini is the smallest lamp size so far in the NJP series, consisting of the table lamp, the floor lamp and the two wall lamps, all characterised by their intriguingly modern and user-centric NJP design. The NJP Mini fits perfectly in a windowsill, a larger bookcase, a dresser, a bedside table or a smaller desk, creating a soothing drop of ambience. The new addition to the NJP family has been designed in a novel warm palette of the four colours, Rose brown, Soft pink, Petrol blue and Taupe, in addition to the three more classic colours, Black, White and Light alu grey. All seven colours add a timeless edge to the contemporary design, created for contemplation and subtle interplay, matching most interiors.
Technical Detail
Design Year: 2015
Made-in: Denmark
Light source: LED 2700K 10W / 418 Lumens
Material:
Base: Steel

Arm and lamp head: Aluminum
Mounting: baseplate
Cable type: PVC cord
Cable length: 2,5m (White cord on White and Soft pink. Black cord on all other colours.)
Feature: Step-less dim between 15 and 100% / Timer function of 4 hours/8 hours
​Light control: Switch on head
Weight: Max. 2.9kg
Size:
Base Diameter :160mm

Height: 415mm

Headlamp diameter: 121mm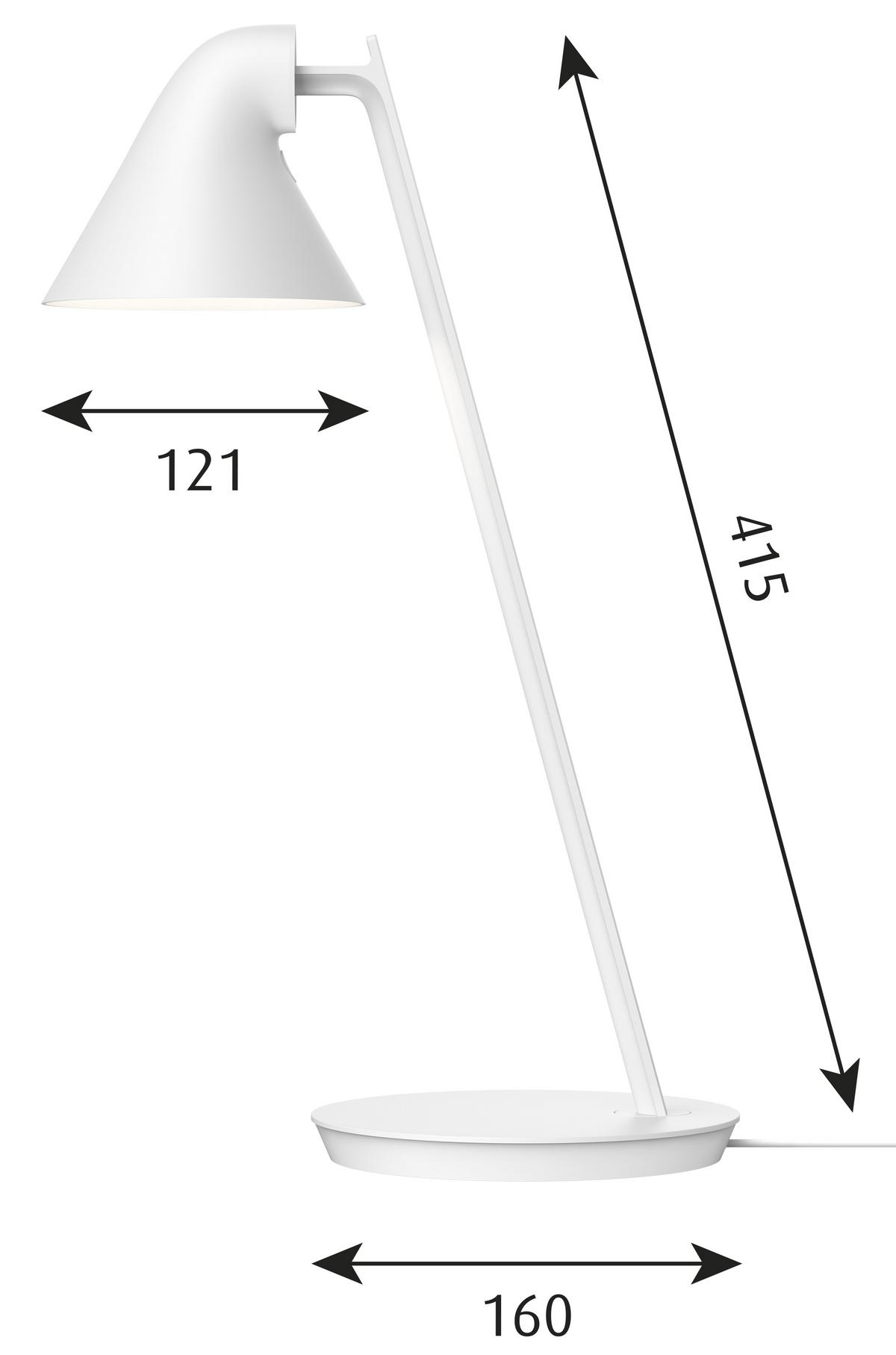 Additional Info.
The white version is supplied with a white cable. The other versions are supplied with a black cable. The innovation of light sources is ongoing. Consequently we only inform about the max. wattage.
Designer
Nendo Oki Sato , 2015
In 2002 Oki Sato founded nendo design studio. nendo means 'clay' in Japanese – or more specifically, modelling clay such as plasticine. A unique material that makes it easy to do creative modelling. As Oki Sato explains: "The name is appropriate for a studio that needs to develop design solutions for a host of very different clients". Oki Sato does not look at design like many iconic designers, who have focused on the mantra, 'form follows function'. He also looks at the history behind the product and its design.
His expression is minimalist, but contains small signs and details that immediately arouse memories. He employs soft, friendly shapes which make his designs appear comfortable from first sight.
In 2022, the prestigious Japanese design studio Nendo, headed by founder Oki Sato, and Louis Poulsen presented the NJP Mini. Nendo designed the first series of NJP lamps for Louis Poulsen in 2015. The NJP Mini makes the family of NJP fixtures even more versatile. Compared to the NJP Table, a modernistic take on the classic architect lamp with the flexibility of two joints on the extensive arm, the NJP Mini is a petite version in downscaled proportions. The characteristic rear shade opening towards the arm allows stepless adjustment of the organic head and together with its smooth rotatable feature of the arm that can rotate 342° around the base, it provides freedom to direct the light where needed. Its relatively small size makes it fit in perfectly everywhere, creating little islands of comforting light not only in the bedroom, living space and home office, but also in cafés, hotel rooms, offices, lounge areas etc.
Brand
In 1924, Poul Henningsen created his influential Paris lamp for Louis Poulsen, and the origin of how we still design to shape light can directly be traced back to his views on the dualities of design and light.
Founded in 1874, Louis Poulsen is a Danish lighting manufacturer born out of the Scandinavian design tradition where form follows function. The function and design of our products are tailored to reflect and support the rhythm of natural light. Every detail in the design has a purpose. Every design starts and ends with light.
We believe in passionate craftsmanship that produces quality lighting and design products that are pleasing to the eye and to the light.
In close partnership with designers, architects and other talents like Poul Henningsen, Arne Jacobsen, Verner Panton, Øivind Slaatto, Alfred Homann, Oki Sato and Louise Campbell, we have established ourselves as one of the key global suppliers of architectural and decorative lighting. Defying traditional product categories, our products serve and span the professional and private lighting markets for both indoor and outdoor applications.
Share
View full details